30th March, 2021
We're thrilled to announce that the Leicestershire & Rutland Ladies Golf Association will be hosting the Midlands North County Match Week, 2021 at Hinckley Golf Club!
The competing counties will be: Derbyshire, Lincolnshire, Nottinghamshire, Shropshire, and Staffordshire. It promises to be a great spectator event with our own Ellie York representing her home county.
County Match Week will run from Monday 28th June 2021 to Wednesday 30th June 2021, with a Practice Day on Sunday 27th June 2021.
---
8th October, 2020
Do you know the best way to repair a pitchmark? Are you sure?
CLICK HERE to see whether your technique holds up!
---
20th September, 2020
Ellie York Regains the Leicestershire & Rutland Ladies County Championship Title
The Leicestershire & Rutland County Championships, hosted by Lingdale Golf Club, began on 18th September and was held over 3 days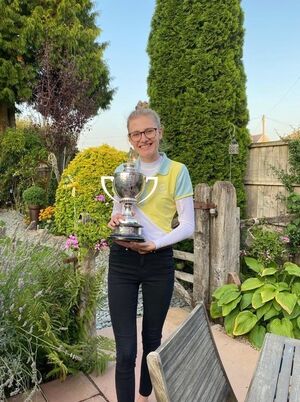 .
The first 36-hole stroke play day saw Hinckley representative and past title holder, Ellie York, qualify in 5th position with tricky pin placings and swirling winds.
Ellie is a lover of match play and so was in her comfort zone from then on. Her quarter-final match saw victory over junior England training squad member, Eleanor Parkinson (Willesley Park), with a comfortable win of 5&4.
Ellie's semi-final match against Victoria Mayfield (Kirby Muxloe) was a thrill to watch as Ellie established an early lead by birdying the first two holes. The match went on to the 19th hole and all her supporters were relieved to see her finish with a great chip and putt taking her to the final.
Ellie won both the junior and ladies county championship titles in 2016, since then Caz Parkes-Walley (Lutterworth) has held the title.
You guessed it – Ellie was up against Caz in the final!
Ellie charged ahead with Caz biting at her heels all the way. The match went to the 36th hole, with Ellie one up. She held her nerve to halve the hole and win!
Everyone at Hinckley would like to congratulate Ellie on her fantastic and thoroughly deserved victory. Annette Cattermole also deserves a special mention as Ellie's caddy throughout, keeping her supplied with chocolate and good humour.
---
8th March, 2020
Captains Drive In
The weather Gods were uncharacteristically kind to Hinckley players this weekend, just one short shower to keep our golfers sufficiently watered. The course was challenging due to the heavy rain experienced over the last few months, but the players persevered through 18 holes, and all had a lot of fun and laughter along the way. Before the drive-in, outgoing Captain, Sarb Matharu, proudly presented a cheque to his chosen charity, the Air Ambulance, for a magnificent £8,000. Well done Sarb!
Knocker Neave announced the new Captains with his hallmark charisma. Seniors Captain, Mike Kirby, was the first to tee-off, hitting a decent drive under the circumstances. Next, Lady and Mr Captain, Breeda and Chris Lester, who arrived in style by vintage car (Chris's pride and joy). They both teed-off together with Chris hitting a drive straight (but straight left) and Breeda sending one 105yds, at the second attempt, to much applause from friends and family.
Well done to Wayne Roberts, Andy Hutchinson, Wayne Astill, Neil Rushforth who scored an impressive 94 points!
A lovely meal followed, with speeches and a raffle for car park spaces. In total £1,000 was raised, a great start to the new Captains' charity, Cancer Research UK.
---
7th October, 2019
Baxter Trophy Qualifiers
Chris Brook and Ellie York carded a gross 76 to qualify as top seeds for the Baxter Trophy finals, to be held on Sunday 20th October 9:30am here at Hinckley. They will play an 18 hole match play semi-final in the morning. The final will take place in the afternoon. The other semi-finalists are from Rothley Park, Luffenham Heath and Cosby.
Chris and Ellie qualified at the stroke play foursomes competition held at Hinckley on Sunday 6th October. Hinckley played host to thirty six pairs from eighteen Leicestershire and Rutland clubs. Hinckley's other pair were Johnathan Golding and Aleisha Macdonald who finished a creditable midfield.
The day was sunny and dry after the recent very wet spell, and the green staff did a fantastic job making the course playable whilst some courses around the county were waterlogged. The club catered admirably for nearly one-hundred players and supporters.
So if you are free on Sunday morning 20th October, please come along and support our pair and let's see if we can bring home the coveted Baxter Trophy to put alongside our County Mixed Foursomes Trophy.
Best of luck guys!
---
2nd September, 2019
HGC Ladies calling the shots!
Congratulations to Ann Bancroft and Julie Jennings, making it through to the national finals of the Coronation Fours at St. Andrews Golf Club on Monday 9th September. They're one of only sixteen couples to make it, so it's a great achievement and we're thrilled to have Hinckley to represented.
Congratulations also to Sheila Chave and Shelagh Neave, who have reached the Ping National Finals played today at Gainsborough Golf Club!
Good luck, play well and know that everyone at HGC is proud!
---
18th March, 2019
Cheltenham Gold Cup Day
On Friday 15th March, Hinckley Golf Club hosted a Cheltenham Gold Cup full-day event with big screen horse racing, on-site bookmakers, shotgun start team golf competition, breakfast and lunch the order of the day.
The event, spearheaded by general manager, John Prior, was a great success with both golfers and non-golfers alike enjoying the festivities in and around the Clubhouse.
Friday saw a break in the rain (if not the wind!) which gave rise to some great play, with HGC members William Jenkins, Daniel Gunn, Samuel Hanson and Wayne Cheater romping home to victory in the team golf event.
John Prior said: "We're absolutely thrilled with our Cheltenham Day's success and I know I speak for the team at Hinckley when I say we're looking forward to organising more events like this that appeal to both golfers and non-golfers, members and non-members, bringing everyone together to enjoy a great day."
---
6th March, 2019
Charity Cheque Presentation
The start of the 2019 golfing season at Hinckley Golf Club kicked off with a charity cheque presentation by outgoing Club Captain, Bill Baum, to Rainbows Hospice for Children and Young Adults.
A grand total of £11,556.00 was raised in aid of Rainbows, who provide care and support for life-limited children and their families, and was presented to Rainbows representative, Gary Farnfield, on Tuesday 5th March before a full room in Hinckley's Nineteenth Bar and Lounge.
2018 Club Captain, Bill Baum, said: "Thank you to all the members and friends of Hinckley Golf Club for what has been a tremendous year. We're thrilled to be able to hand over this cheque to a charity that is close to all of our hearts and we are deeply touched by everyone's generosity."
The new season also welcomes Club Captain for 2019, Sarb Matharu, whose nominated charity will be the Derbyshire, Leicestershire & Rutland Air Ambulance, he said: "Everyone at Hinckley Golf Club is extremely proud of Mr Captain, Bill, and Lady Captain, Sandra, for their efforts this year. I hope to match their success over 2019 for a charity that I respect and admire enormously."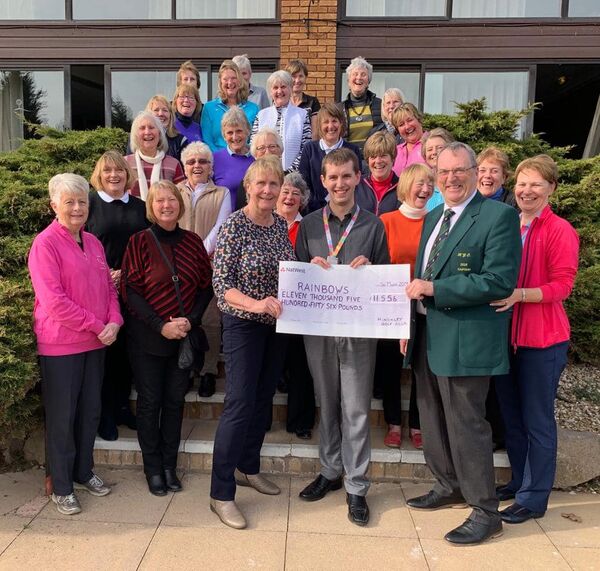 ---
25th October, 2018
End of Season Round-up
The 2018 golf season has seen a string of great successes for Hinckley Golf Club members.
Whilst Hinckley has seen many of its membership win and even more place in prestigious competitions, there have been two standout performers whose form has been unfaltering throughout the season.
Hinckley's current course record holder, Chris Brook, won the Kenilworth Classic before taking the title of L&RGU County Champion. Steve Eaves brought home a myriad of wins, starting with Senior Pairs Open at Frilford Heath (with playing partner Robert Brightmore), the Derby Ram, Hydy Trophy at Copt Heath, Mildland Golfer Magazine's Par 3 Championship at Nailcote Hall, and the Midland Golf Challenge (with previous Hinckley member Russell Rice).
In addition to these outstanding performances from two veteran competitive golfers, Hinckley saw an unexpected, but incredibly well-deserved win by Josh Hayes, who earned the title of Club Champion, 2018.
Club Captain for 2018, Bill Baum said: "We've had a fantastic season at Hinckley Golf Club and couldn't be more pleased for our members representing the Club with such decorum both on and off the course."
---
26th September, 2018
Chris Brook -- L&RGU County Champion, 2018!
On Sunday 8th July 2018, Hinckley Golf Club's course record holder, Chris Brook, became the L&RGU County Champion for Leicestershire & Rutland. A one stroke lead secured his win against closest competitor James Billingham of Cosby and qualified Chris to represent the L&RGU at England Golf's Men's Champion of Champions tournament held on the 16th September, 2018 at Woodhall Spa.
The Champion of Champions tournament gives the opportunity for county representatives across England to compete for the ultimate amateur golf title. Played at Woodhall Spa each year, players travel the length and breadth of the country to compete for this most prestigious and coveted trophy.
Following in the footsteps of Hinckley's last Champion of Champions winner, Johnathon Herbert (1997), Chris finished 9th with a valiant 153 gross over 36 holes.
Hinckley Golf Club's 2018 Captain, Bill Baum, said: "Chris Brook is an absolute credit to Hinckley Golf Club, a fantastic player and genuine guy – everyone at the Club is incredibly proud of him."

---
17th August, 2018
Gripping Chipping!
Assistant professional, Lewis Whitehurst, launched the first in a series of golf masterclasses this week. Thursday 16th August's sold-out session focussed on the fine art of chipping, and was extremely well-received by the twelve strong team in attendance.
The masterclass opened with a step-by-step explanation and demonstration by Lewis, detailing ideal technique and outlining the variations required for specific shots. A drills session followed, with each player set up at their own station, where Lewis then spent time assessing and coaching the individual's performance.
Those attending the masterclass described it as a great mix of fun and information, each with take-away tips instantly improving their game.
Following the success of Thursday's class, subsequent masterclasses are rapidly filling up, with only a few places still available. If you'd like to book a place, contact the Pro shop on 01455 615124 (opt.3) – once a masterclass is full, you have the option of joining a waiting list.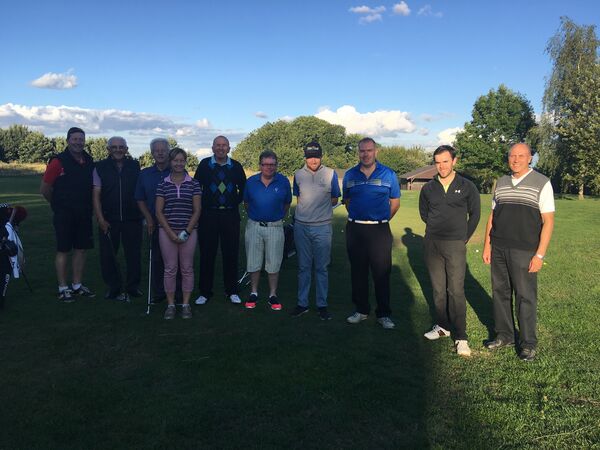 ---
31st July, 2018
Lady Captain's Away Day -- Rutland Water Golf Course
A great day was had by all the ladies this Tuesday, who enjoyed the continued lovely weather, fabulous views and challenging greens of the Normanton 18-hole Championship Course.
Congratulations go to the winning pair, Anne Jones and Lady Captain Sandra Baum.
Closest to the pin winners were Sue Ayre and Cheila Chave.
Musical entertainment was provided by Annette Cattermole, Jayne Eaden and Lisa Wells!
Refreshments and nibbles were provided by Mr Captain Bill Baum and Chris Lester.
Apecial thanks to all who contributed to making Lady Captain's Away Day a thoroughly enjoyable day.
---
10th July, 2018
PAYNES GARAGES TAKE THE PAIN OUT OF EQUALITY
In a game changing move, Hinckley Golf Club breaks with long held tradition and opens their prestigious Payne Cup for all members to compete.
On Saturday 14th July, Hinckley Golf Club will hold a competition like they never have in a bold first time move towards equality. The event, sponsored by Paynes Garages of Hinckley is, for the first time in its extensive history, open to lady, senior and junior members – now all eligible to compete for one first place prize.
The move has been met with warm applause by the membership and the wider community, with Charles Harlock of Paynes stating, "We were delighted to hear that for the first time since its inception, the Payne Cup will be open to ALL members. We sincerely hope that this leads to even more all-inclusive events in the future to help nurture and develop the Golf Club even further. May the best Golfer win!"
Hinckley Golf Club's Lady Captain for 2018, Sandra Baum, added, "This is the first time that a competition is open to all members to win a place on a single honours board. All the ladies are really looking forward to this new and inclusive experience, and look forward to more competitions, and Clubs, following suit."
With this bright new and inclusive outlook set for the season, it is hoped that other Golf Clubs in the Midlands, and beyond, take note of this big move by a little Club and real change in the game will be embraced by all those who have that one thing in common – a love of Golf.
---
4th July, 2018
UNDERGROUND PLAN FOR HOSEPIPE BAN
It's been a hot month! With a near-record breaking June seeing temperatures soar to 29 degrees, it came as no surprise to many when Brits were urged nationwide to curb their water consumption habits, with the likes of hosepipe bans and 3 minute showers, in a bid to conserve supplies.
Of course, for us as a Golf Club, water (and in vast quantities) is an essential part of keeping our course healthy and in great condition for our players throughout the season, and it is a testament to our greens team that they have been well prepared for our current heatwave.
Drawing much needed water from our own borehole, a narrow pipe feeding into the ground, to access naturally occuring aquifers, permeable underground rocks which collect transient water, we were able to administer a massive 1 MILLION litres of water to our course over the month of June.
When you compare this figure to May, where we used a 'mere' 400,000 litres of water, you can see just how much of an impact this summer scorcher has really had!
And to top it all off, we've now received a personal thank you from Severn Trent for our efforts (see Facebook post below).
So next time you're on the course, let the greens staff know their hard work is appreciated. And long may this summer continue! (With perhaps a little sprinkling of rain along the way).